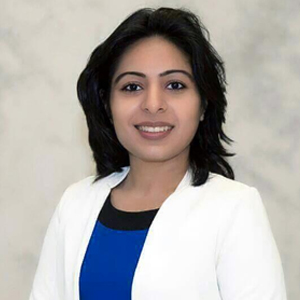 "Dentistry is not just about restoring teeth, but about restoring confidence and being healthy. I strive to give patients a reason to smile more."
Dr. Surbhi Chandna has been a dentist since 2011. She is originally from New Delhi, India and holds a dual degree in dentistry from both India and United States graduating with as Doctor of Medicine in Dentistry (D.M.D) from the prestigious University of Pittsburgh. She has a passion for dentistry and has worked with non profit dental clinic in Los Angeles, provided free dental services to participants of Special Olympics in Richmond, and volunteered for MOM n PA Dental Missions in Pittsburgh.
She enjoys all aspects of general and cosmetic dentistry, including oral diagnosis and treatment planning, root canals, crowns, bridges, veneers, periodontal maintenance and supportive therapy, restorative dentistry and oral rehabilitation. She is compassionate, energetic, and a good listener.
She feels fortunate to have a supportive family; she recently married Vineet, a physician. Other than spending time with her family, she enjoys cooking, painting, traveling, exploring new restaurants. Dr. Chandna is a member of ADA (American Dental Association), Virginia Dental Association and Shenandoah Valley Dental Association. Dr. Chandna looks forward to serving her community and patients like a family.